Why should I install solar energy on my home or business?
Installing solar energy systems on your home or business is a decision that can bring about numerous benefits, ranging from environmental and financial advantages to increased energy independence and a positive impact on your community. In this comprehensive essay, I will delve into the myriad reasons why you should consider installing solar energy on your property, exploring the environmental, economic, and social advantages of this sustainable energy source.
Solar energy, harnessed from the sun's radiant power, has emerged as a leading renewable energy source in recent years. This growing popularity is not without good reason. Solar power systems offer various compelling advantages that can significantly benefit both residential and commercial property owners. The decision to invest in solar energy installations is influenced by several factors, each of which will be elaborated upon in this essay.
Mad Energy NW is MUCH More Affordable
Not only is MAD Energy NW an award-winning leader in the Solar industry here in Seattle, but we are also the most affordable option in the state.
Now, you're probably questioning that. 
Let us show you why choosing MAD Energy NW's team to create and install your new solar setup will save you time, money, and trouble.

Mike put a couple of outlets in our deck ceiling for a heater and a string of patio lights. He explained everything he was doing in layman's terms, and suggested moving a light switch inside so our existing deck lights and patio light switch would be in the same spot. We would never have thought of it, but much more convenient! He was nothing but professional and pleasant throughout the process. Highly recommend him!

I've worked with Mike for many years and have always seen the quality of his craft be nothing short of pure excellence. He's a treasure trove of electrical knowledge and truly a skilled artisan, I would not hesitate to recommend him as not only an electrician but also a stand up, honest man.

These guys are so good! Hire them! They're very communicative, professional, old-school polite in office and in home. There was no question when they'd show + cleaned up after themselves. Was a job well done on 2 ceiling fans, a floor outlet and a ceiling fixture.

Wow!!! From the time I called (talked to Hailey) to having the owner/electrician come fix some can lights I received excellent service. THANK You!!

Mike is the best electrician I've had worked with. He explained the process, cost and time accurately. Most importantly respectful and trustworthy. A+ class experience. I would recommend for anyone that needs a dependable and trustworthy contractor for any job size. Thank you again for your wonderful work!

Mike, Dixon and Frank we're very easy to work with. Communication was always top notch. Project started and finished on time. Plus the passion for their work really comes through.

The owner and Master Electrician of MAD Energy NW, Mike Dalton, is now our go to guy for all things electrical and also for general contracting. He came to our newly purchased but dated home and helped us design a lighting set up that worked well for us and updated our 1970's condo electrical to current standards. His work is beautiful and he is both professional and efficient. He was willing to work with me to get every part of the job right the first time and walked me through each step of the process, answering any questions I had along the way. I wish every contractor out there was like Mike; his attention to detail sets him apart. I am so glad we hired him and we will both used him again in the future and recommend him to all our friends! Give yourself an easy remodel, call him.

I had a bad experience with an electrical contractor so I reached out to Mad Energy NW to fix all the errors from the other guy. Mad Energy NW is so professional, they quickly identified the errors and remedied them. I was very frustrated with the other guys and just needed the job done with the minimum of stress possible. They charged less then the first guy, was easier to work with and the work was so professional when he was done. Organized conduit and properly labeled panels and switches. 1000% better. Don't make the mistake I did, just hire these guys first.

They're very communicative, professional, old-school polite in office and in home. There was no question when they'd show + cleaned up after themselves. Was a job well done on 2 ceiling fans, a floor outlet and a ceiling fixture.

I bought a home with a number of electrical issues and Mike was able to quickly solve each issue so I could move into a safe home. Mike was easy to work with, I was impressed with his wide electrical knowledge, and I will call him the next time I have any electrical needs. Thank you MAD Energy NW!

I thought most contractors were like Mad Energy Northwest but that's not the case. I recently had a different contractor work on my house from tree damage I had no idea when they were coming and still don't know when they're going to come back and finish the work and messy. It's great to know when your contractor is coming, what work is being done and a clean workspace which is what is what I received from Mad Energy NW.

Our kitchen lights and bathroom outlets just randomly stopped working after being in our house for a year. I reached out to MAD Energy NW after seeing a Facebook post about them. Hailey responded within hours to see when we could have Mike come out and gave us a quote for what to expect. They were able to come out within one business day. Mike was on time and really friendly. He was great with the dog, explained everything he was doing, and upgraded our stuff where he could. He was so understanding and careful with our belongings and kept everything clean. I would recommend Mike to anyone who needs electric work and wants to support an amazing local business!

I was referred to MAD Energy NW through a colleague of mine who hired Mike (the owner) to do some electrical work on an investment property of his. After looking up and verifying his license with the county to be active and free from violation I gave him a call to pick his brain and get a second opinion estimate. Mike was able to quickly and concisely explain the work to be completed in such a way so that anyone could easily understand it's complexity. He offered two options that would bring the electrical up to code giving me the choice of how to proceed and I really appreciate that. I didnt feel like I was being sold. He showed up early and stayed until all my questions were answered leaving me with peace of mind. Very glad to have finally found an electrician I can trust. Mike is a Master Electrician and a perfectionist in his trade, he was also polite and courteous. It has been my experience in dealing with home remodels with all types of tradesmen and general contractors that there is an overwhelming level of arrogance and bravado that one has to navigate through. You won't experience that when you choose to do business with the professionals at MAD Energy NW. Thank you Mike for all your help! You've definitely earned my business!

Mike did such an amazing job upgrading my electrical panel that we had him come back to install can lighting and remove some old wiring in the attic. He also has a great work ethic and attitude.

Highly recommend MAD Energy. Mike did great work and explained everything in a way I could understand. We will definitely be using him again. Thank you for your great work!

I would recommend Mike as an electrician to my friends, because I know the quality of work he does, he treats his installations as it would be his personal home projects. No need to say more!

Mike put a couple of outlets in our deck ceiling for a heater and a string of patio lights. He explained everything he was doing in layman's terms, and suggested moving a light switch inside so our existing deck lights and patio light switch would be in the same spot. We would never have thought of it, but much more convenient! He was nothing but professional and pleasant throughout the process. Highly recommend him!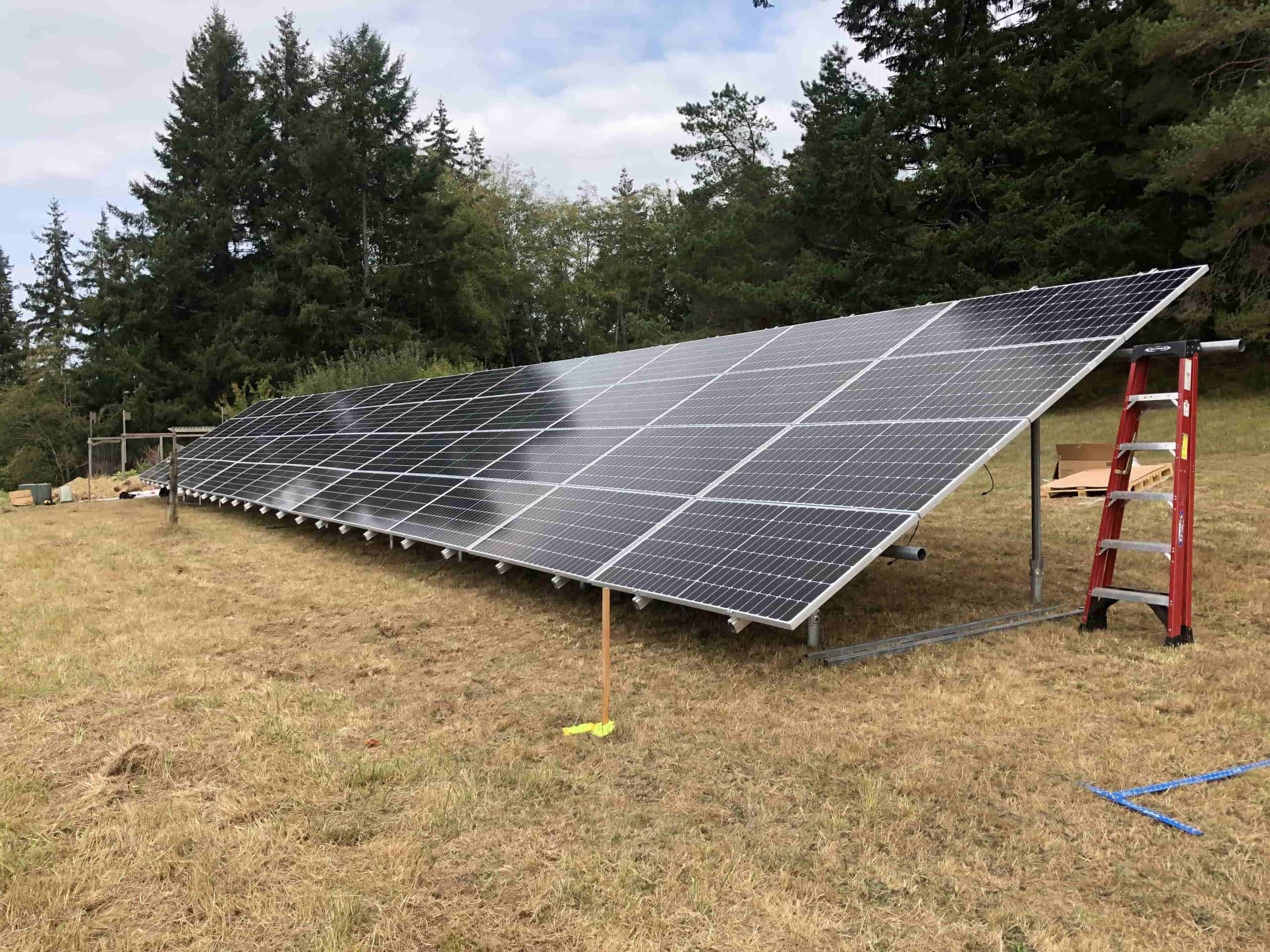 One of the most compelling reasons to install solar energy systems on your property is the positive impact it has on the environment. Solar power is an incredibly clean and sustainable energy source that helps reduce the carbon footprint and mitigates the effects of climate change. Here are some key environmental benefits: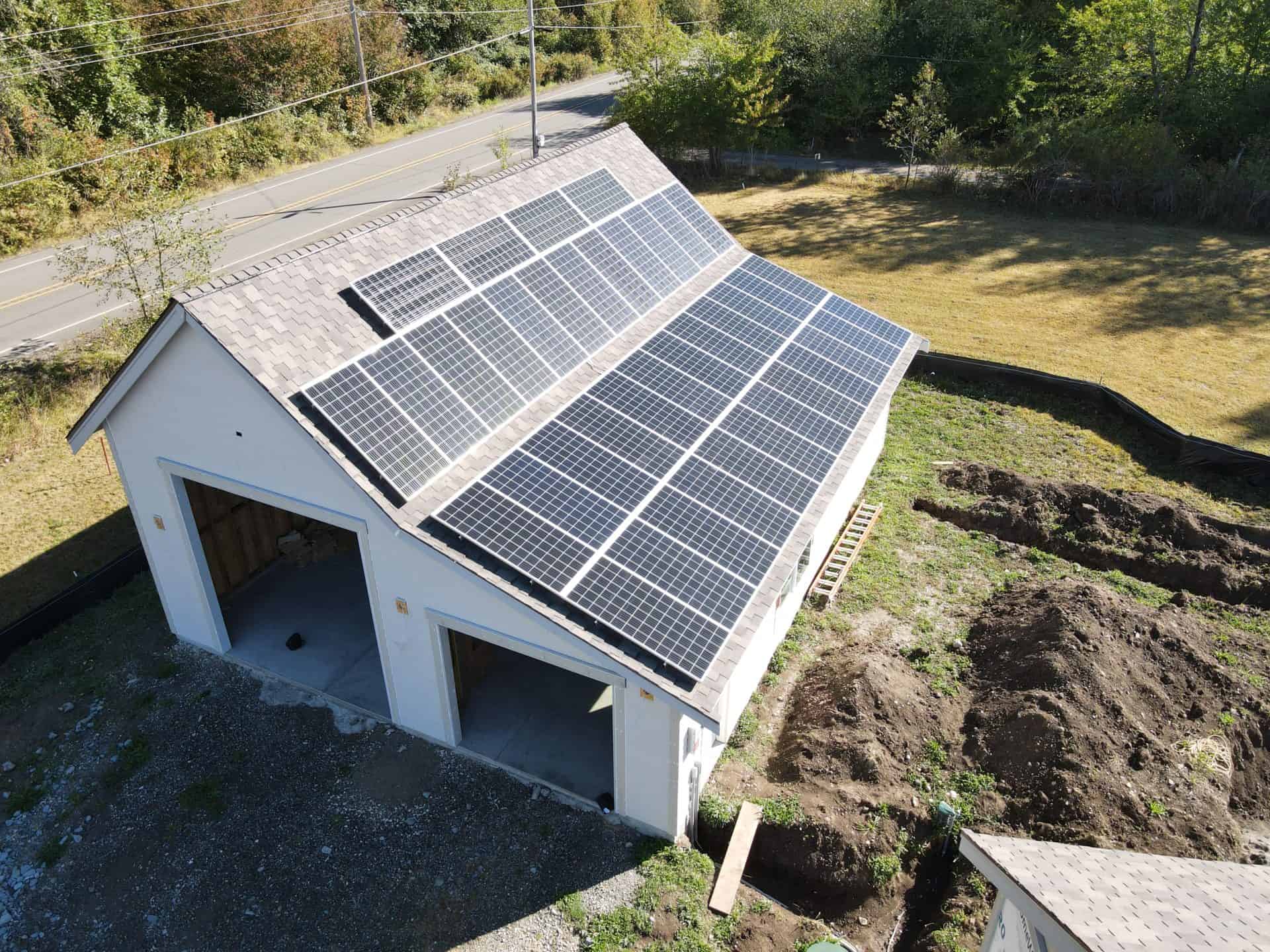 Energy Security and Reliability
Solar energy systems contribute to enhanced energy security and reliability for homeowners and businesses. Here are some key reasons why this is a critical benefit:
Reduction in Greenhouse Gas Emissions:
   Solar energy systems generate electricity without emitting harmful greenhouse gases such as carbon dioxide, methane, and nitrous oxide, which are major contributors to global warming. By reducing your dependence on fossil fuels, you are directly contributing to a reduction in greenhouse gas emissions.
Air Quality Improvement:
   The combustion of fossil fuels for electricity production releases pollutants that deteriorate air quality and cause various health issues. By switching to solar power, you help reduce air pollution, benefiting both human health and the environment.
Conservation of Natural Resources:
   Solar energy does not rely on the depletion of finite fossil fuel resources. By harnessing the abundant energy from the sun, we reduce our dependence on fossil fuels and help conserve these valuable natural resources.
Preservation of Ecosystems:
   Extracting and burning fossil fuels often leads to habitat destruction and environmental degradation. By choosing solar power, you play a role in preserving ecosystems and protecting wildlife.
Financial Benefits:
The economic advantages of installing solar energy systems are a major incentive for homeowners and business owners alike. Solar power can lead to significant cost savings and long-term financial stability. Here are some of the key financial benefits:
Reduced Energy Bills:
   Solar panels generate electricity from sunlight, reducing your reliance on grid electricity. This results in lower monthly energy bills, offering immediate cost savings.
Energy Independence:
   Solar power provides you with a degree of energy independence, as you produce your electricity. This reduces your vulnerability to rising energy prices and power outages, providing stability and peace of mind.
Return on Investment (ROI):
   The initial investment in solar panels is offset by various incentives, such as tax credits and rebates, as well as the reduction in energy bills. Over time, you can achieve a substantial ROI, with the potential to recoup your investment and even generate income from excess energy production.
Increased Property Value:
   Properties equipped with solar energy systems tend to have higher resale values. Potential buyers are attracted to homes and businesses with lower energy costs and a reduced carbon footprint, making your property more marketable.
Net Metering:
   Many regions offer net metering programs, allowing you to sell excess electricity back to the grid. This can furtherenhance your financial returns, particularly if your solar panels generate more electricity than you consume.
Reduced Dependence on the Grid:
   Solar panels reduce your dependence on the electrical grid, making you less vulnerable to power outages, grid failures, and fluctuations in energy prices.
Backup Power:
   Some solar energy systems are equipped with battery storage, providing backup power during grid outages. This can be crucial for ensuring the continuity of essential operations in a business or maintaining comfort in a home.
Grid Support:
   Solar installations can support the electrical grid by generating electricity during peak demand periods, reducing strain on the grid and minimizing the risk of blackouts.
Long-Term Sustainability:
The sustainability of solar power is another compelling reason to invest in this renewable energy source. Solar energy offers long-term benefits and contributes to a more sustainable future. Here's why sustainability matters:
Abundant Resource:
   The sun is an almost infinite source of energy. Unlike fossil fuels, which are finite and depleting, sunlight is a resource that will be available for billions of years. This ensures the long-term sustainability of solar power
Low Maintenance:
   Solar panels require minimal maintenance, with few moving parts and a long operational lifespan. This results in long-term energy production with minimal upkeep costs.
Technological Advancements:
   Solar technology continues to evolve and improve, offering increased efficiency and cost-effectiveness. As the technology matures, solar installations become even more sustainable and efficient.
Energy Independence:
   By producing your electricity, you reduce your reliance on external energy sources, contributing to energy security and long-term sustainability.
Job Creation and Economic Growth:
The solar energy industry contributes to job creation and economic growth in local communities and on a national scale. Installing solar panels on your property supports these positive economic outcomes. Here's how:
Local Job Opportunities:
   The installation, maintenance, and manufacturing of solar energy systems create job opportunities in your community, stimulating economic growth and providing employment for local residents. The team at MAD Energy NW is proud to hire local residents and has strong ties in helping people learn about solar energy and its benefits. 
Economic Benefits:
   The solar industry's growth contributes to economic activity, from research and development to manufacturing, installation, and maintenance. This growth is vital for a thriving economy.
Energy Independence:
   Supporting the solar industry helps reduce dependence on foreign energy sources, promoting domestic economic stability and reducing the trade deficit.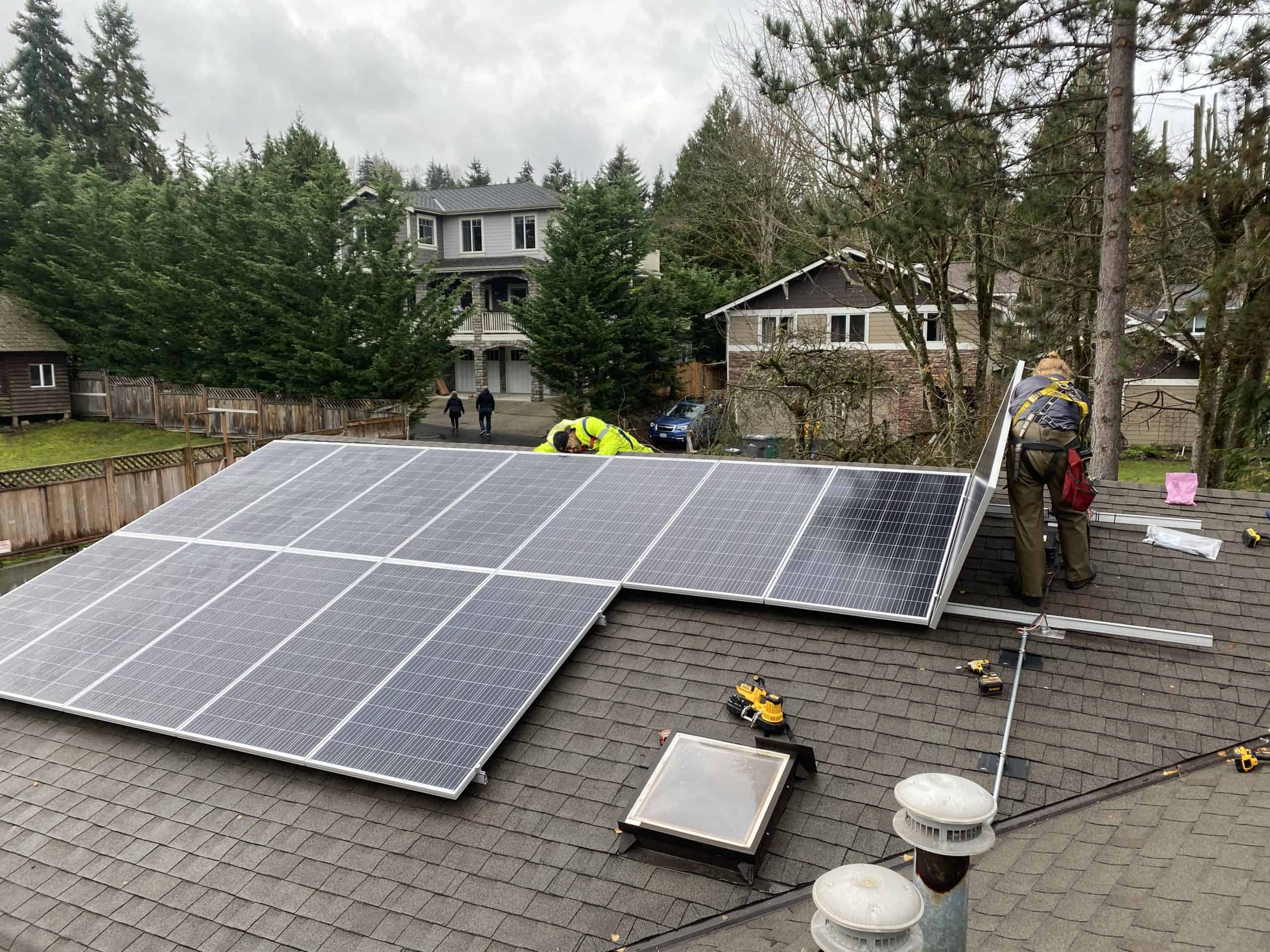 This is the most cost-effective application, which in turn provides the best return on your investment. Solar panels are more efficient than ever! Couple that with a 30% income tax credit, there's never been a better time to install solar panels on your home.
Rooftop solar is not your only option for panel placement, and sometimes is not the best option. If you have the space for it, a ground mount solar array offers the opportunity to install more solar than what may fit on your roof. In addition to being easier to clean, ground-mount solar will typically run more efficiently since the system operates under less heat creating less friction as the solar energy transfers to your home electrical system.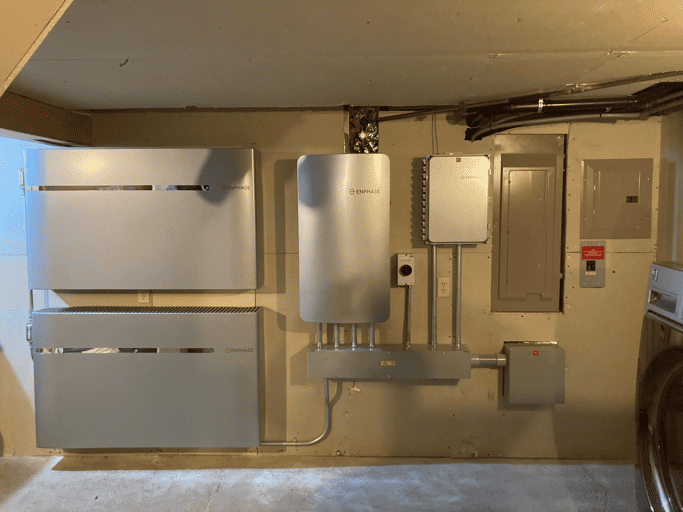 Considering a backup source for power during a power outage? Adding battery backup to your solar project is a great way to store energy for those stormy days, and eliminates the need to maintain a gas engine like a generator. These batteries run noise free and automatically transfer power when needed. And YES, these do also qualify for the 30% federal income tax credit!
We are the premier commercial, residential, and new construction solar company in Washington State.
Community and Social Benefits
Solar energy installations can have a positive impact on your community and society as a whole. By installing solar panels, you contribute to the greater good in several ways:
Education and Awareness:
   Solar installations on residential and commercial properties serve as educational tools, raising awareness about renewable energy and inspiring others to make eco-friendly choices.
Environmental Stewardship:
   By reducing your carbon footprint and choosing clean energy, you demonstrate environmental stewardship and set an example for others in your community
Energy Equity:
   Solar energy can help address energy inequities by making clean energy more accessible to underserved communities. Community solar projects and financial incentives can promote energy equity.
Energy Resilience:
   Communities with widespread solar installations are more resilient in the face of natural disasters and other emergencies, as they can generate their electricity independently.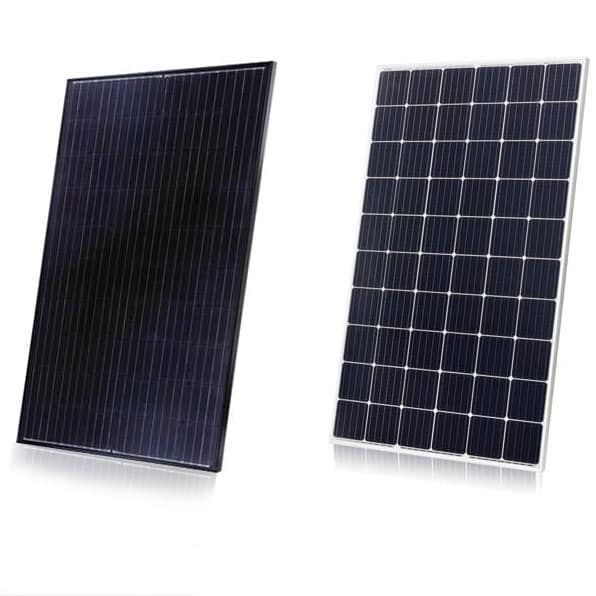 Solar panels, also known as modules within the industry, convert sunlight into electricity using the photovoltaic effect.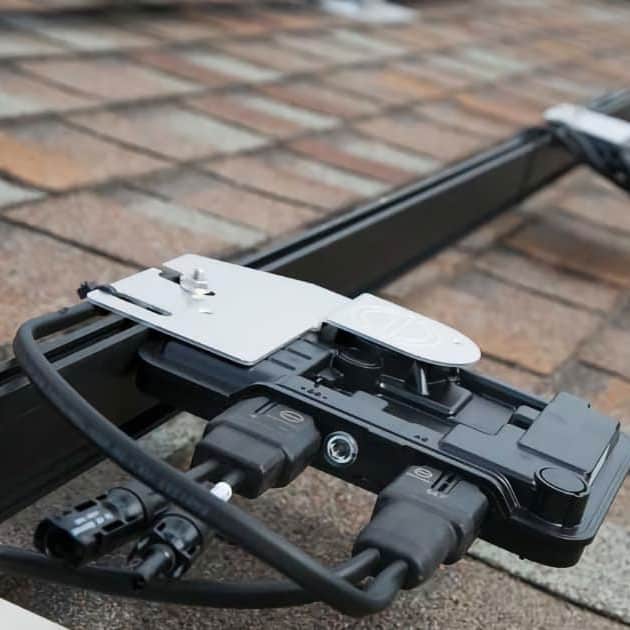 Solar Inverters convert the direct current power produced by the modules, into an alternating current to be used.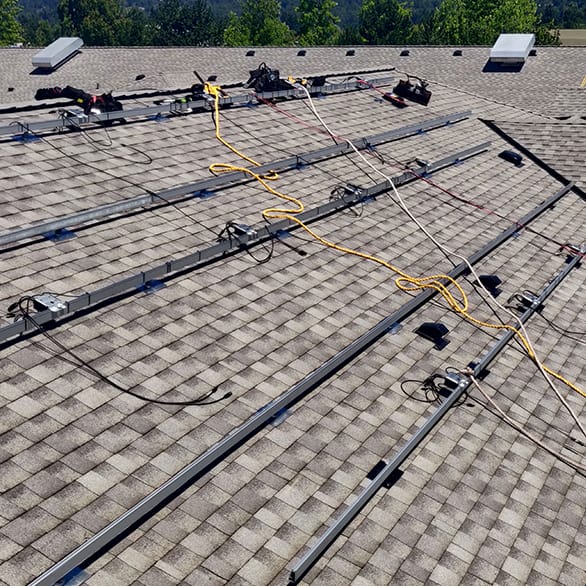 Solar racking is the mounting system that supports and secures the panels to the roof or ground structure.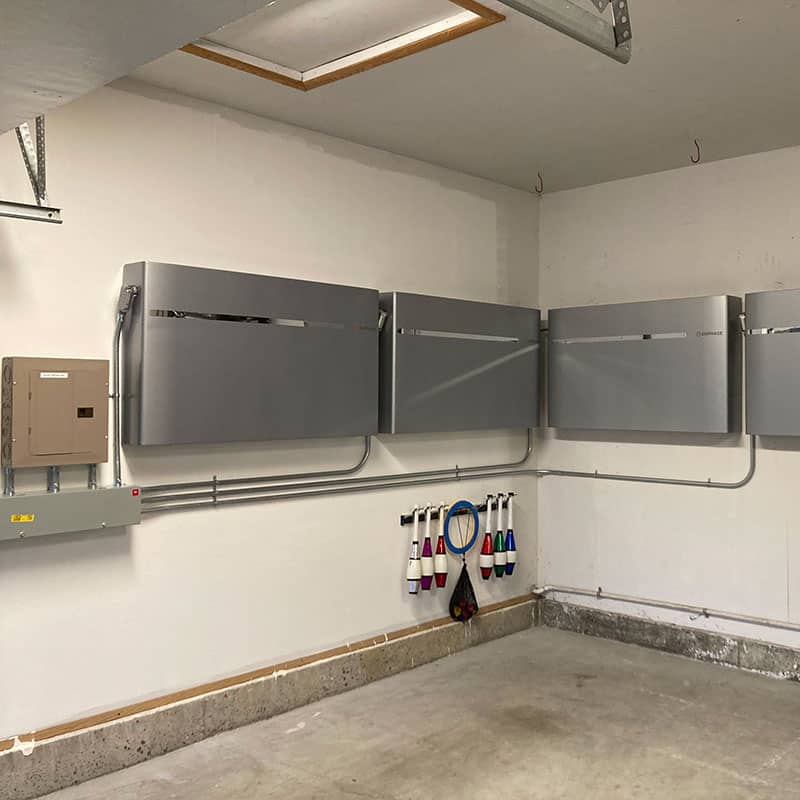 Solar Batteries are used to store electricity generated by the solar panels for those times when the utility power drops out.
Government Incentives and Policy Support
Many governments worldwide provide incentives and policies that encourage the adoption of solar energy. Taking advantage of these programs can make installing solar panels even more appealing. Key incentives and policies include:
Federal Tax Credits:
   In the United States, the federal government offers a 30% Investment Tax Credit (ITC) for solar installations, significantly reducing the upfront cost. MAD Energy NW can help you understand what credits you qualify for. 
State and Local Incentives:
   Numerous states and local municipalities offer additional incentives, such as rebates, grants, and low-interest loans, to promote solar energy adoption.
Feed-In Tariffs:
   Some regions offer feed-in tariffs, which guarantee a fixed payment for excess electricity fed back into the grid, providing additional financial benefits.
Renewable Portfolio Standards (RPS):
   Many jurisdictions have established RPS policies, requiring utilities to source a certain percentage of their energy from renewable sources, which can drive investment in solar power.
Net Metering:
Net metering policies allow homeowners and businesses to sell excess electricity back to the grid at retail rates, further enhancing the financial benefits of solar energy.
The Mad Energy Solar Warranty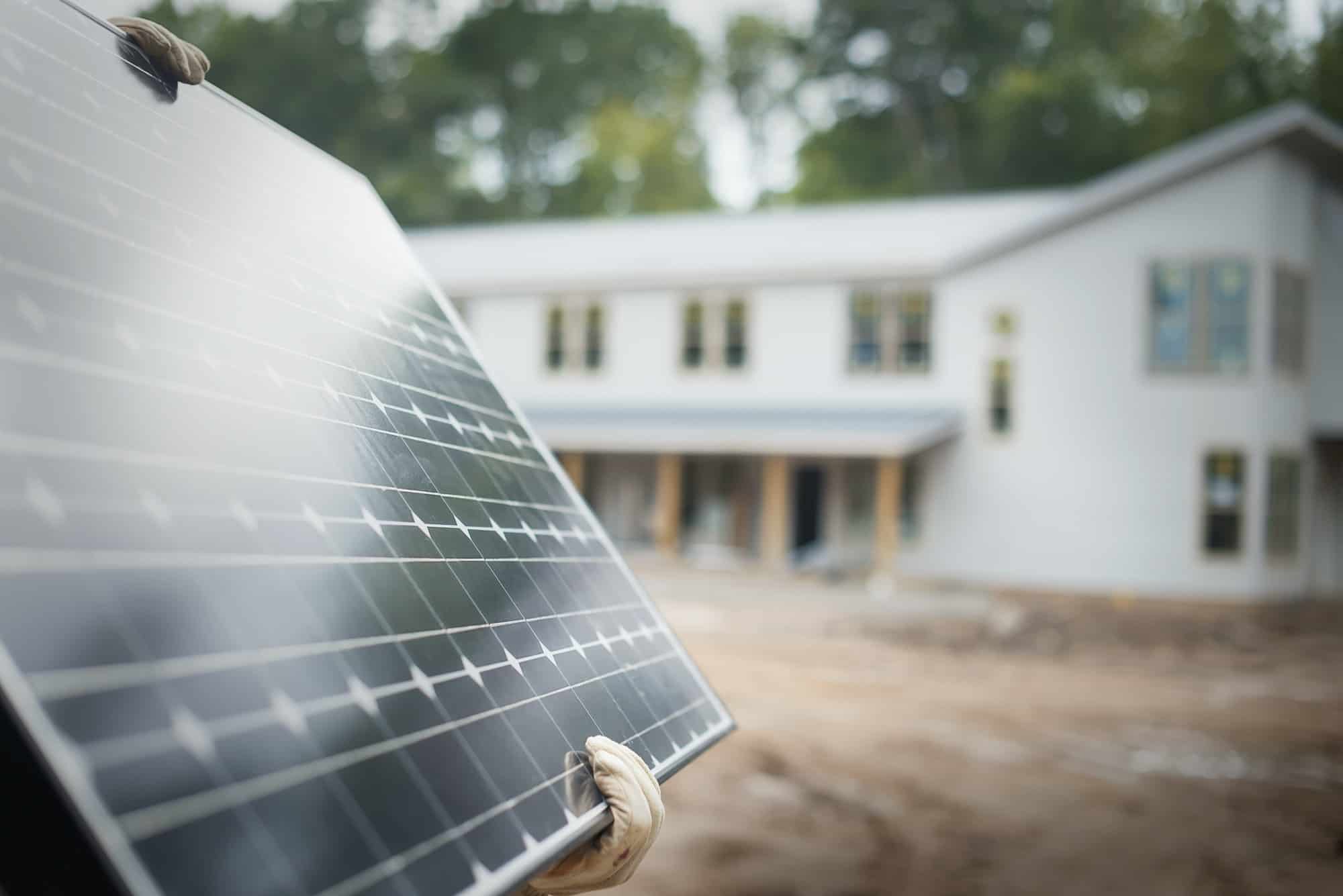 Technological Advancements
Advancements in solar technology have made solar installations more efficient, cost-effective, and aesthetically appealing. Some of the noteworthy technological improvements include:
Higher Efficiency:
   Modern solar panels are more efficient at converting sunlight into electricity, meaning you can generate more power with fewer panels.
Energy Storage:
   Battery storage systems have become more affordable and efficient, allowing you to store excess energy for use during cloudy days or at night.
Aesthetic Options:
   Solar panels now come in various designs and colors, allowing for more customization and integration into the architectural aesthetics of your property.
Smart Grid Integration:
   Integration with smart grid technologies enables more efficient energy management and optimization, ensuring that you get the most out of your solar installation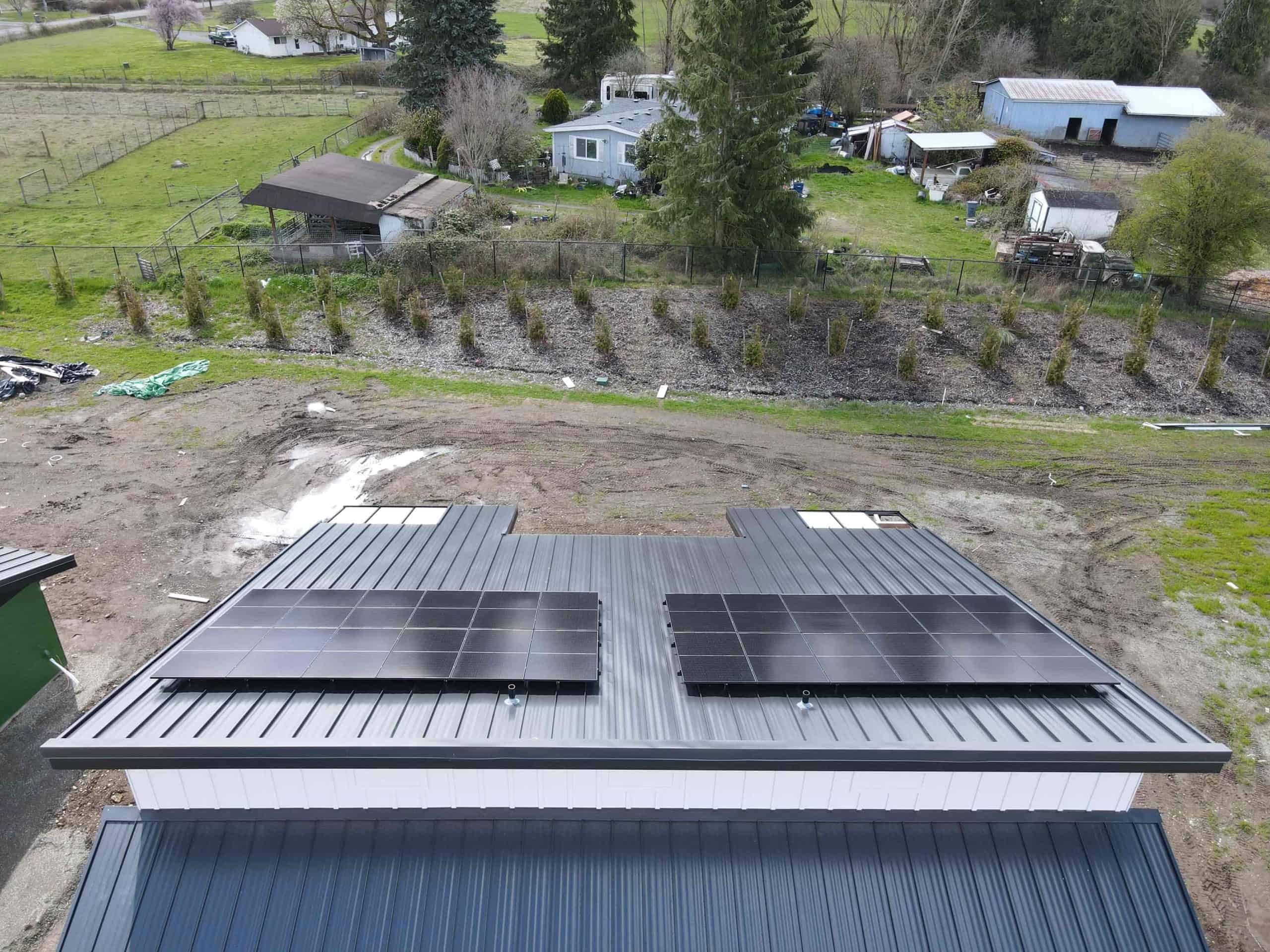 Solar power systems provide a level of energy resilience that is invaluable for both homeowners and businesses. The ability to generate electricity on-site and store excess energy in batteries ensures a continuous power supply during grid outages or emergencies. This is particularly important for businesses, where downtime can result in significant financial losses. For homeowners, it means having a reliable source of power for essential appliances and comfort during outages.
Reduction of Energy Losses:
The transmission and distribution of electricity from centralized power plants to end-users result in energy losses due to resistance in power lines. These losses are often referred to as "line losses" and can account for a significant portion of the energy generated. By generating electricity on-site with solar panels, you reduce the need for long-distance power transmission and associated losses, making the energy supply more efficient and reducing the strain on the grid.
Sustainability Leadership:
Installing solar panels on your home or business sends a powerful message of sustainability and environmental responsibility. It demonstrates your commitment to reducing your carbon footprint and contributing to a more sustainable future. This leadership can inspire others in your community to follow suit, leading to a broader adoption of solar energy and a positive impact on the environment.
Global Energy Security:
The use of solar power reduces dependence on fossil fuels, which are often sourced from geopolitically unstable regions. By transitioning to clean, locally produced energy, you contribute to global energy security and reduce the risks associated with energy supply disruptions or conflicts over energy resources.
In conclusion, the decision to have MAD Energy NW install solar energy on your home or business is supported by a wide array of compelling reasons. From its positive environmental impact and financial benefits to enhanced energy security and community contributions, solar energy is a sustainable, economically sound, and environmentally responsible choice. The numerous incentives, technological advancements, and government policies make it an even more attractive option.
Solar power provides an opportunity to reduce greenhouse gas emissions, improve air quality, and conserve natural resources. It offers financial savings, increased property values, and the potential for a significant return on investment. Solar installations contribute to energy security, sustainability, and energy independence, while also supporting job creation and economic growth. The social benefits are significant, from education and awareness to environmental stewardship and energy equity.
By choosing solar energy, you not only reduce your carbon footprint but also contribute to a more sustainable, resilient, and economically prosperous future. It's a decision that benefits not only you and your property but also your community, your country, and the planet as a whole. With all these advantages, it's clear that installing solar energy is a wise and forward-thinking choice.