Solar Companies Bellevue: MAD Energy NW
Our team of licensed, bonded, trained professionals is dedicated to providing advanced, easy-to-use solar technology. Thanks to our experienced team, you will be able to lower your electricity bills and increase your tax returns. 
The consultation, design, and installation processes are streamlined. Now Bellevue homeowners and businesses can enjoy all the benefits of solar power.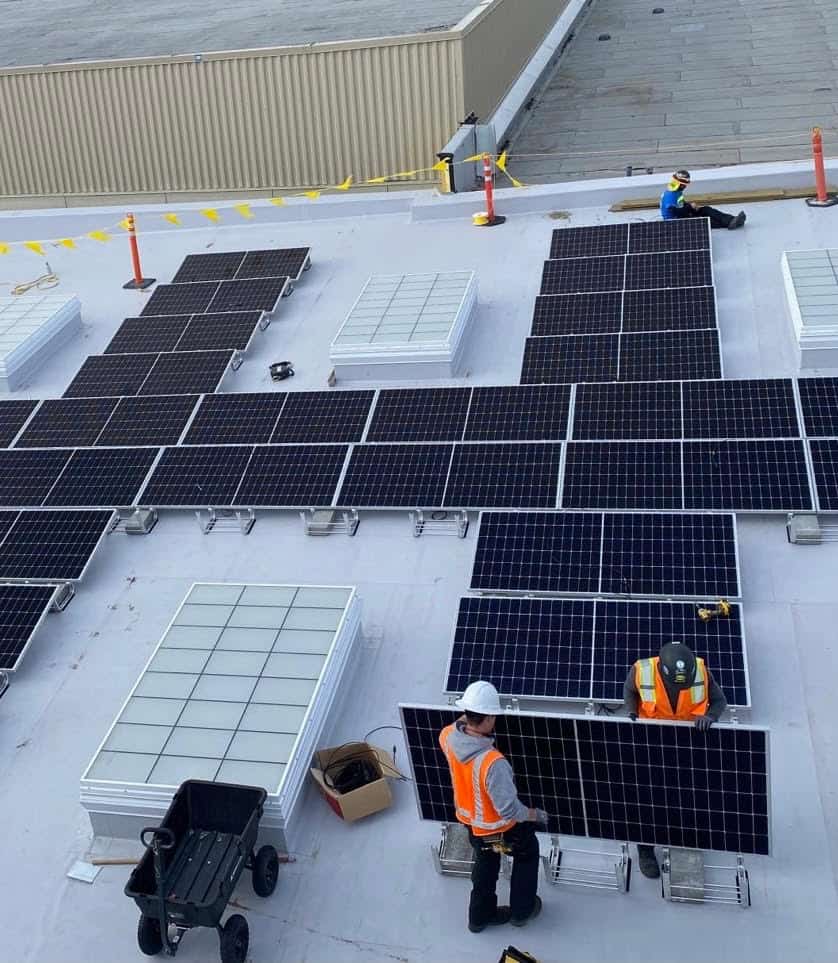 Why MAD Energy NW is the Best Solar Company in Bellevue
Just like other smart technology, the latest solar tech makes your life easier. We use top of the line solar technology that integrates perfectly with your monitoring system. Now you can optimize solar energy production and decide where that energy is used. Our team will help you select the best solar system for you or your business so that you can maximize savings, lower energy usage, and become less reliant on Bellevue's power grid.
Residential Solar for Bellevue Homeowners
Our systems can be customized to fit any residential building. Our team will help you decide whether a roof system or a ground system is best for you. Oftentimes a small house can completely replace its electrical bill with an efficient ground system and battery backup station. 
Solar Solutions for Bellevue Businesses
Our team of experienced, certified electricians oversees every step of the process to ensure your solar panels and backup system comply with the latest regulations in King County. We'll also help you find a design that is efficient and does not detract from the aesthetic of your building.
Monitor and Adapt Your Energy Usage
What if you could see when you use the most energy and find a way to replace that grid electricity with solar power? Our smart solar energy management solutions allow you to do that and more. We will show you how to use your system to track energy production and usage patterns.
More Reasons to Hire Our Team in Bellevue
We're Dedicated to the Customer Experience
Our team of electricians and solar experts are here to install the solar power system you want. We don't leave a job until we're certain the business or homeowner is completely satisfied with the finished project. Your best experience throughout this process is our priority.
Specialized Residential Solar Setups
MAD Energy NW specializes in both residential and commercial solar setups. Both present unique challenges. For example, your Bellevue home may be less than 20 ft from your neighbor. You probably don't want your lawn filled with solar panel mounts, and your roof may not hold as many panels as you would like. In a scenario like this, our designers will figure out a setup that maximizes your space.
High Quality, Durable Equipment
Bellevue weather isn't terrible, but there is always the potential for damage to solar panels and their mounts when they're located in an area with regular rainfall and snow showers. Low or medium-quality mounts and panels will break or lose their efficiency after 5 to 10 years. That's why we only install high-quality, state-of-the-art solar panels, mounts, and power backup systems.
Each panel also comes with monitoring software. The software is simple enough for anyone to use and will help you maximize your home or business's energy efficiency. 
Less Work and Hassle for You
Our team of certified electricians will handle everything from designing your Bellevue home or business solar power setup to installing the wiring and monitoring software. We don't want you to stress about the installation process, the time it will take, or the financial implications. Our team will handle the entire process and make sure that your new system fully meets your energy needs. Going green should be stress-free and easy, and that's the experience we promise to all of our customers.
Claim All Your Financial Incentives and Rebates
We strive to make our services as affordable as possible, but installing a solar setup is still a large expense. That's why we have carefully studied all the financial incentives and rebates the state of Washington offers to those turning to green energy. Even during the design phase, we double-check the project to ensure it meets every requirement necessary to claim tax exemptions and energy credits.
If you are constructing a house and want to include solar it can boost your energy credit score by 4.5 credits. 
Skilled Electricians and Designers
One of our project managers will be assigned to your project until it is completed. The project manager will oversee one of our teams of skilled electricians. This team will be responsible for wiring your solar panels into your house and connecting your system to the city's power grid so that you can earn credit for any extra, unused power you generate. Safety and customer satisfaction are always our top priorities, which is why we only send certified electricians to work with our Bellevue customers.
MAD Energy NW does not have a one size fits all system design. Every customer receives the same high-quality equipment and services, but we design each system to be uniquely fitted to your home or business's needs. 
Do you have a small area to work with? We can specially design a compact green Energy system that will help you save money on your power bill. 
Do you have business with an unused plot of land in the back? We can turn it into a field of solar panels and help you save 50% or more on monthly electricity costs. 
If you can't afford a large setup right now, that isn't a problem either. We can set up a small system that has the potential to be expanded in the future.
Licensed, Bonded, and Insured Team
As we already mentioned, our electricians are all licensed in the state of Washington. Our company is also bonded and insured. Not only does this protect us, but it protects you in case something goes wrong during installation. You will never have to pay for any accidents that happen on the job site.
Get your free quote now.
The Mad Energy Solar Warranty
At MAD Energy NW, we pride ourselves on delivering top-quality solar and electrical  services that you can trust.

All of our installers are licensed electricians, and every installation is managed by a dedicated project manager to ensure a smooth process and timely completion.
We only use the highest quality, most reliable products on the market to ensure the longevity and performance of your solar system. Our inverters and optimizers have a 12–25 year warranty, while our solar panels have a 25–30 year manufacturing warranty.

Additionally, our racking systems come with a 25-year warranty, and we offer a 10-year workmanship warranty on all aspects of your solar project.
We can provide long-term peace of mind warranties on every aspect of your solar project because we  install projects with precision, care and quality.