Meet Your Residential Electrician In Seattle and Tacoma
It's time to introduce you to our team.
MAD Energy NW employs a team of licensed electricians to perform all of our services. Whether you're interested in a complete house rewiring or looking to add solar panels to your roof, our electricians are ready to get started on your project.
You don't want just anyone working on your house. We only hire qualified, highly skilled electrical and solar experts to ensure you and our other customers receive the best service possible.
A new electrician can do a good job, but what happens if something unexpected happens on the job? What if the original architect did something unusual with wire placement? Or worse, what happens if some faulty wires are causing a fire hazard?
These problems become even worse when dealing with a large project like a whole house rewire. You don't want unnecessary damage being done to your walls, and you're certainly not interested in overseeing the project yourself to make sure that the entire house is properly rewired. 
Thankfully, our team of experts protects you and your property from all the above issues. 
When you outline the scope of your project, MAD Energy's electricians and architectural design experts will map out the entire project. Once you approve the final plan our team won't stop until every last bit of work is completed correctly.
Another useful benefit of hiring electricians who have been in this field of work for years is that your job is completed faster. Some companies can quickly perform electrical panel replacement, whole house rewire, and solar services but they cut corners to meet all their deadlines.
Our team has been doing this for so long that it has become muscle memory. They know exactly which wires go where.
Not that we're trying to brag, but we're fairly certain they could install one of our EV car charging stations with their eyes closed.
When you have a project completed quickly and correctly you save hundreds of dollars on unnecessary manpower.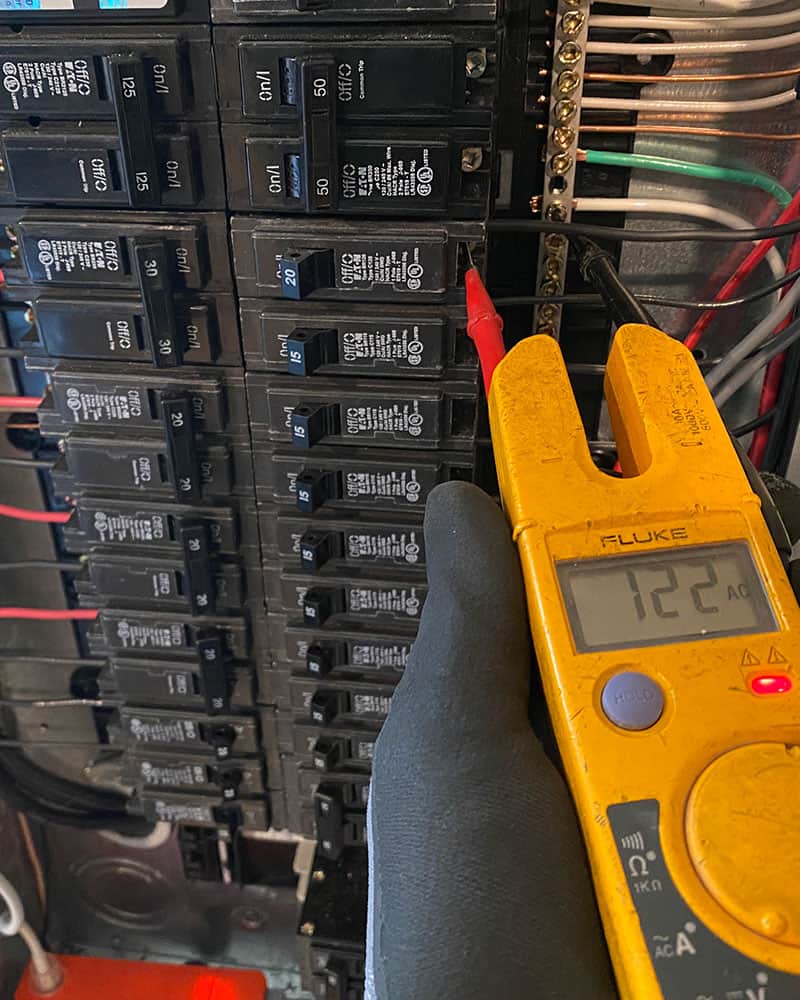 Our electricians are not prone to making mistakes, not even small ones. However, there's a first time for everything and sometimes unexpected circumstances or accidents occur on the job site.
For example, what if one of your new solar panels suddenly fell off your roof and damaged your patio? You shouldn't be forced to pay for something like that. Even if your own insurance covers it, your insurance company may decide to raise your rate.
That's why your residential electrician is licensed, bonded, and insured. 
You can rest at ease knowing that your property is safe from liabilities. Even your new solar panels and supporting equipment come with 25 to 30-year warranties.
This is one of the many reasons we are considered to be Seattle's best solar equipment installation company.
This qualification is essential. Electricians who are not based in the Seattle area won't be familiar with the weather your wiring and solar equipment will need to withstand.
The residential electrician working on your project will also have a good understanding of your local codes and regulations.
The last thing you want is to pay several thousand dollars for a new solar setup or house rewiring only to get served with a fine from your city or HOA. Not only would such a situation mean you would need to pay more money, but you would potentially wind up with hundreds of dollars worth of grade-A solar equipment sitting in your garage because you aren't allowed to use it.
Wasted time and money is completely unacceptable, that's why your electrician will be fully aware of the limitations of your property before the design team even finishes the installation plan.
Your electrician will go over the plan in detail with you to make sure you're completely satisfied with it.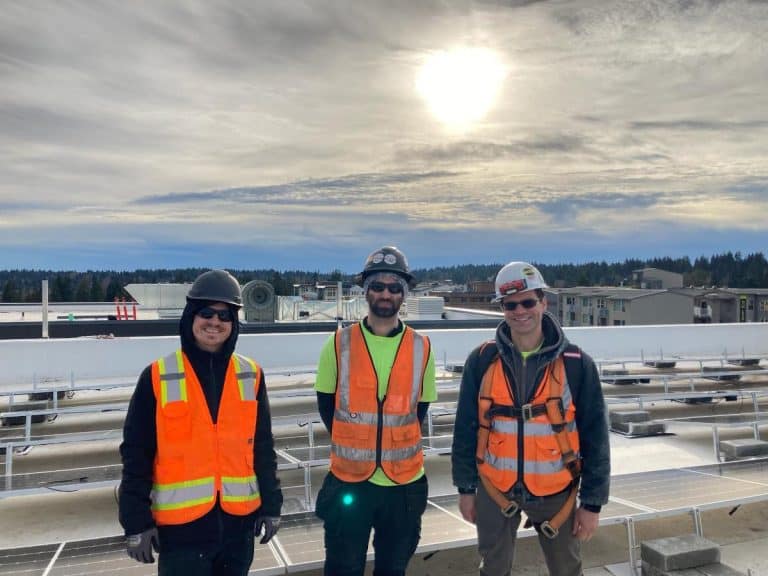 It's all well and good that your residential electrician is qualified, but is that enough?
If you're going to hire MAD Energy NW, we need to provide more than just a qualified electrician.
Here are three more reasons why you won't regret choosing our company to install solar equipment, rewire your house, or replace electricity panels.
You're the One in Control
Not all companies (or electricians) give you total control when installing solar equipment or working on the wiring in your house. They figure that, because you have little to no knowledge of wiring and solar equipment, you would be prone to making bad decisions about panel placement, material choices, etc.
However, none of that changes the fact that it's your house. It's your money that is being spent, so you should have the final say on everything. That's why we include you in every step of the process and want your input. If you notice something that you don't like, tell us. 
Ask your electrician to clarify any points of confusion before they start work on your home. The last thing either of us wants is to be in the middle of a project only to realize that it isn't what you wanted.
Having full control means that you can feel more confident in your decision to hire us. 
Best Supplies and Equipment
Our electricians only use the best equipment. We're talking about the same quality of solar panels used by hospitals and government facilities.
Because we have been in the industry so long, we know how to get the best prices so that you don't spend a penny more than necessary.
A Team You Know and Trust
Our local team members are trusted by the communities here in Seattle, Tacoma, and everywhere in between. We are located in Auburn Washington, and provide service to everyone in the area.
We were named the best solar company in Kent in 2022 and installer of the month this year.
Local people, quality service, and a long history of satisfied customers are just a few of the reasons our team is the best choice for you or your business.
What it Will Be Like Working With Your MAD Energy NW Residential Electrician
Everything starts with your free quote. You can either fill out the contact form on our website here or call us directly.
Requesting a free quote does not put you under any obligation to work with us or continue contact. We will send you occasional emails regarding our services and to inquire if you are still interested in working with us.
When you request your quote, please specify the type and size of project you have in mind.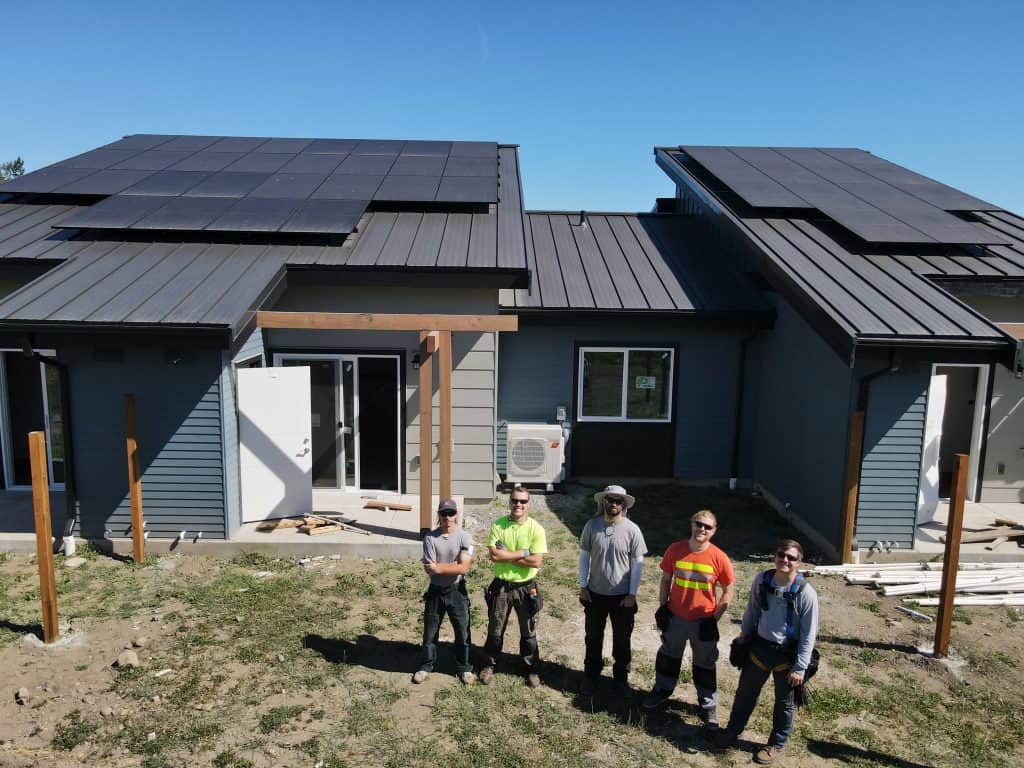 Residential

Commercial

Rewiring

Solar panels

Backup batteries

Electric car charging station
The more details you give us, the more accurate your quote will be. If you have a set budget and the quote comes back higher than you had anticipated, we can always help you choose a different system plan that would be more budget-friendly.
If you're okay with waiting a few years for your dream solar setup, we can install a few panels and a backup battery now and install more in a year or two when you have more money to put toward the project.
We want to make going green as easy as possible for every business and homeowner. You can work directly with your electrician to figure out what equipment you need to install immediately and what equipment you can add to your system later.
Project size will be the determining factor in how many employees will be working on your property. When the project begins you will have your first meeting with your new team and go over the plan details again.
Communication is key to a successful installation. Not only do we want to install everything where you want it, but we also want to make sure you know when your electrician and their team will be at your house so that you don't need to worry about us showing up unexpectedly.
There will also be times when areas of your house or property will be occupied by our team. 
You can talk directly with your electrician to work out a schedule so that you aren't inconvenienced by their presence. 
Why You Should Contact Us Today
Weather conditions can play a part in how long it takes to install your equipment. If you're reading this while it is still warm outside don't hesitate to request your free quote. Even if it's winter right now you can still get a free quote and request rewiring and electric panel replacement services.
Plus, the longer you delay, the more likely it is that your project will never get started.
Take the leap and get in touch with your MAD Energy NW residential electrician today.
The Mad Energy Solar Warranty
At MAD Energy NW, we pride ourselves on delivering top-quality solar and electrical  services that you can trust.

All of our installers are licensed electricians, and every installation is managed by a dedicated project manager to ensure a smooth process and timely completion.
We only use the highest quality, most reliable products on the market to ensure the longevity and performance of your solar system. Our inverters and optimizers have a 12–25 year warranty, while our solar panels have a 25–30 year manufacturing warranty.

Additionally, our racking systems come with a 25-year warranty, and we offer a 10-year workmanship warranty on all aspects of your solar project.
We can provide long-term peace of mind warranties on every aspect of your solar project because we  install projects with precision, care and quality.